VERNON GRABS THIRD CAREER MADERA PRO LATE MODEL WIN ON MAVTV
 
MADERA, CALIFORNIA (April 27, 2019) – After a disappointing start to the season with two blown engines, Bakersfield's Racin Vernon won round #3 of the Nut Up Pro Late Model Series at Madera Speedway, Saturday night.  Vernon led twice including the final 14 laps of the 80 lap feature that paid $2,000 to win.  In other action, Las Vegas' Tanner Reif won his third career 51FIFTY Jr. Late Model 70 lap feature to extend his points lead as well. 
 
Both series are televised for MAVTV with a total of 25 Pro Late Models and 15 Jr. Late Models in action on the one-third mile speedway.
 
Vernon drew the pole position and led the first three laps before a big incident slowed proceedings.  Christian Roche had contact with Matt Erickson coming out of turn two that resulted in Roche sliding nose first into the turn three wall.  Three-time $10,000 to win Short Track Shootout champion Eric Holmes spun to avoid but suffered damage that ended his night as well.
 
On the following restart, 2018 non-televised Madera Late Model champion Jason Aguirre and Carlos Vieira began their torrid side-by-side battle for the fourth position.  The battle would stretch throughout the entire opening 50 lap segment.  Jr. Late Model winner Tanner Reif, 13, made his Pro Late Model debut from 11th on the grid and promptly charged past fellow Jr. graduates Austin Herzog and Dylan Zampa to crack the top-ten by lap 15.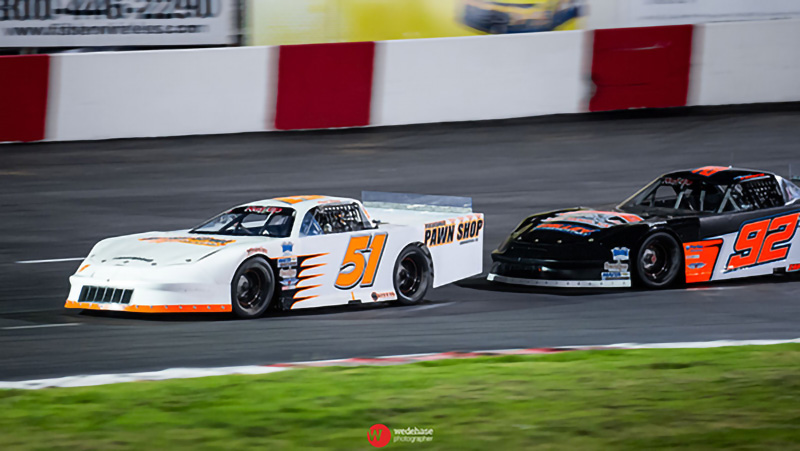 Vernon's strong lead on the field diminished when he was mired in lapped traffic and by lap 25, 2018 Short Track Shootout winner Logan Zampa was hot on his trail.  Erickson closed in as well, and ended up snookering Zampa for second on lap 28.  The battle for fourth between Aguirre and Vieira grew to six cars deep in side-by-side fashion.  The battle slowed when a caution flew for Tim Furin spun in turn two.  Erickson apparently suffered damage to his right rear wheel trying to avoid.
 
Vernon charged past Erickson from the outside on the restart and fast-time qualifier Herzog knifed through to move into sixth.  A lap 39 caution saw Herzog advance to third while Erickson drifted to seventh.  The race went into the lap 50 break with Vernon leading Zampa, Herzog, Vieira, and Aguirre.
 
The restart from the break was significant as Zampa took the lead from Vernon off the line.  The inside line all stumbled, which forced Aguirre back to tenth position in the process.  Sheldon Cooper suffered serious damage to his car to force a lap 54 caution in turn one.  Zampa maintained the top position from Vernon while Herzog peeked his nose inside of Vieira for third.
 
Vernon tracked down Zampa methodically, and then used lapped traffic to take the lead down the backstretch on lap 67.  Herzog then cleared Vieira on lap 71 using lapped traffic to his advantage as well.
 
Both Logan Zampa and Austin Herzog were unable to close down on Racin Vernon, with the Bakersfield driver taking a 1.895 second win over Zampa, Herzog, Vieira, and Ross Strmiska.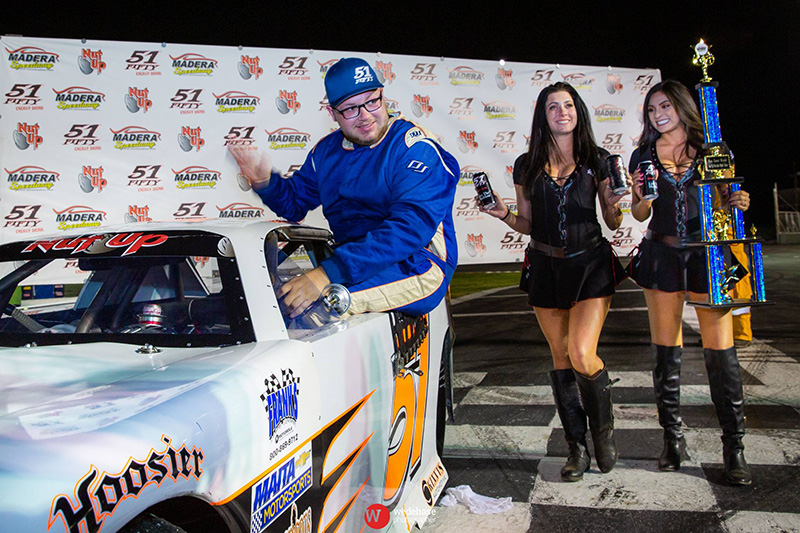 Tanner Reif's Jr. Late Model victory in the 70 lap contest for drivers ages 10-16 had plenty of excitement.  Reif drew the pole alongside his younger brother Tyler.  Each successive restart for an incident saw a brief battle before Tanner managed to slide in front of Tyler.
 
Round two winner Joey Iest tried to get around Tyler Reif off a lap 30 restart.  The duo made contact which caused concern for Reif's left rear tire.  Meanwhile third in points Seth Wise was engaged in a back-and-forth battle with Jay Juleson with Juleson moving into fourth after some contact.
 
A caution on lap 38 brought the scheduled break to fruition two laps early.  When things resumed, Tyler Reif used the outside line to take the lead from his brother on lap 39.  After a lap 41 caution, Tanner took over for lap 42, before surrendering the lead back on lap 43 to Tyler.  Tanner then appeared to take the lead for good on lap 44.  Two laps later, Tyler Reif attempted to move up the inside of Tanner into turn one.  They nearly made contact, with Tyler spinning the car through the grass to bring out the caution and force him to restart at the rear.
 
Seth Wise had moved up from fifth to second in just eight laps and restarted inside Tanner Reif.  He was unable to challenge and fell into the clutches of Juleson.  They ran side-by-side for ten laps until lap 59, when Wise spun off the door of Juleson exiting turn four.  The caution flew and Wise restarted at the rear.
 
Tyler Reif had moved up to sixth at that point and entered into a furious battle between Kabe McClenny and Kyler Berry for fourth.  The trio went three-wide down the backstretch, ending with Berry and McClenny making contact into the corner.  The contact ended Berry's race while McClenny lost three positions getting back into line.
 
Tanner Reif cruised home to victory ahead of Juleson, Iest, Tyler Reif, and eighth starting Jake Bollman. 
 
The youngest drivers at Madera Speedway compete in the Mini Cups vs. Bandoleros with their race producing a first-time winner.  Dylan Baptista won in just his second Bandolero start ever and did so in thrilling fashion ahead of 2018 champion Riley Massey.
 
Nathaniel Edwards led the first two laps before Massey led lap three and brought Baptista with her.  Many of the cars in the pack slid around the track for much of the race in sideways fashion.  Baptista took the lead on lap five before a caution on lap six brought the field together.  Massey tried to crossover Baptista several times but he held onto the lead to take the victory.  Trenton Eurto finished third while Joey Kennealy was the Mini Cup winner.
 
Mikala Stearns of Stockton won an electrifying 25 lap Hobby Stock race where three of the five starters led laps in the feature.  Stearns and 2018 champion Steve Schermerhorn made contact on lap 21 exiting turn four that rewarded Stearns with the lead and knocked Schermerhorn back to third.  Stearns led Triston Hansen and Schermerhorn across the stripe as the top-three finishers.
 
Jason Lawton has had the recent hot hand in Toyota Sedans and that trend continued, despite the presence of prior champion Jillaun Holden.  Lawton managed to take a three second victory with JJ Brandsen finishing third.
 
Up next for Madera Speedway is the MAVTV televised North American Challenge Cup for 100 laps, the Vukovich Classic for MAVTV televised BCRA/POWRi Midget Series, USAC Western US Midgets, Legends of Kearney Bowl, California Hard Tops, Legends of the Pacific, and Southwest Tour Trucks.
 
For more information about Madera Racing on MAVTV please visit www.racemadera.com or www.mavtv.com. For more information on Nut Up Industries please visit www.nutupindustries.com and for more information about 51FIFTY Energy Drink visit www.51fiftyenergydrink.com
 
Madera Speedway is presented by major partners Nut Up Industries, 51FIFTY Energy Drink, iPull-uPull, and Color Fast Industries.  Contingency sponsors include Five Star Bodies, Maita Motorsports, McCallister Precision Marketing, and StopTech Brakes.
 
Madera Racing on MAVTV airs Thursdays every week.  The show airs at 5 p.m. and 8 p.m. PST and is also available on the Lucas Oil Racing TV app.  2018 episodes will continue airing until the late spring, before 2019 episodes hit the airwaves on June 6th.